Going to Las Vegas and deciding where to stay is one of the greatest problems every visitor will surely run into when visiting the strip. It is a good problem to have though since there is an extensively huge array of exquisite and irresistible luxury hotels and resorts strategically located right next to each other. Imagine, going inside Willy Wonka's Chocolate factory not knowing where to go and what to … it's similar making a choice of where to stay in Las Vegas.
Most of these luxurious hotels are exquisitely designed and offer various features to experience just what Las Vegas has to offer. Exciting night life, huge and widespread Casino gaming areas, stunning swimming pools, and high-rise buildings are the typical factors in making a choice of where to stay.
To help you make up your mind, here are some of the most popular hotels voted online. All are guaranteed the world's premier hotels, so enjoy your stay!
Wynn and Wynn Encore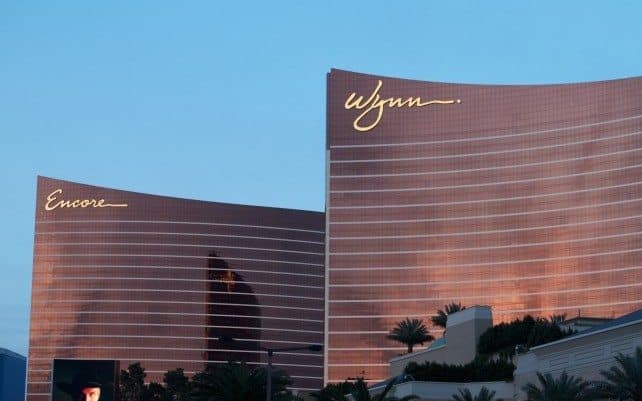 These sister resorts, casinos, and hotels are packed with luxurious facilities that make them as one of the finest hotels in the world. Encore Las Vegas, in fact, received the Forbs five-star award in 2012 and the AAA Five Diamond Award.  Also, the Wynn Las Vegas created history in garnering five-star ratings in Hotel, Restaurant, and Spa categories for two consecutive years.
The main attraction Encore has is its Beach Club, which spans 50,000 square feet, with beautifully grown palm trees surrounding three-tiered swimming pools. On the other hand, Wynn's greatest attraction is its 1.2 hectares man-made lake, dubbed "The Lake of Dreams".
All of these world-class boutiques, delighting nightlife, and highly luxurious rooms are just some of the irresistible amenities tourists wish to experience.
Four Seasons Las Vegas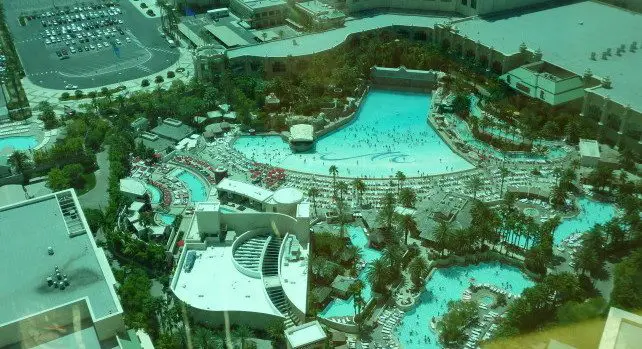 Rising on the famous Las Vegas strip, the Four Seasons Hotel offers you stylish and newly renovated rooms that provide you an exciting atmosphere. Guests are given direct access to the adjoining Mandalay Bay Resort & Casino and the city's enchanting nightlife and entertainment.
The Four Seasons comes with a welcoming Concierge, captivating pool, and luxurious spa and fitness centre.
Palazzo Resort Hotel Casino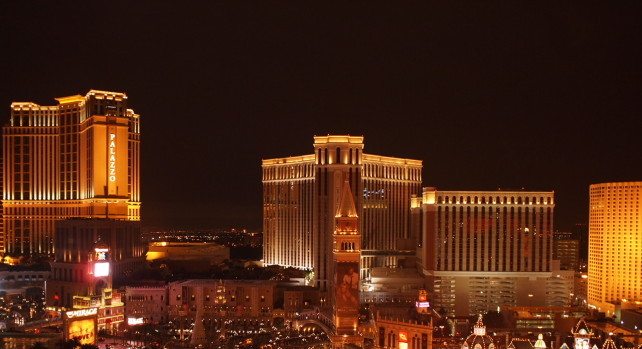 Earning the AAA Five Diamond Award in 2009, The Pallazo stands beside The Wynn and possesses a contemporary European architecture that continuously offers unparalleled service for guests. This hotel boasts the largest standard rooms of the area, with at least 720 square feet per room.
Their Delmonico Steakhouse, with a variety of succulent seafood dishes matched with Brazilian and Mexican cocktails will, according to web reviews, make you not want to leave.
Bellagio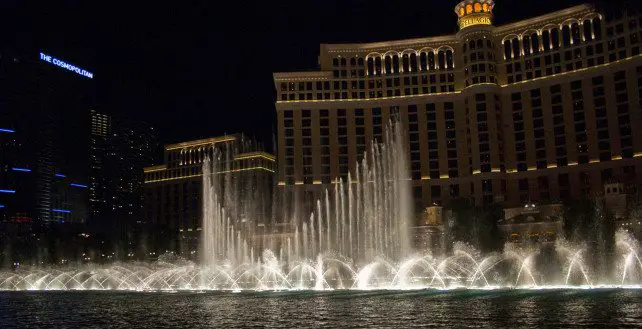 An eight-and-a-half-acre man-made lake and synchronized water fountains will astonish you, as it surrounds the fascinating five-star Bellagio on the Las Vegas Strip. Its 'tastefully done rooms' are embedded with Tuscan designs, paired with modern pieces of furniture and Italian marble.
The hotel proudly invites all to witness their captivating aquatic show, with clever opera music, classical and Broadway tunes. The conservatory and botanical gardens are perfect for nature-lovers and you shouldn't miss their diverse and delicious dining options; ranging from Asian to Mediterranean cuisines at their first-class restaurants.
The Venetian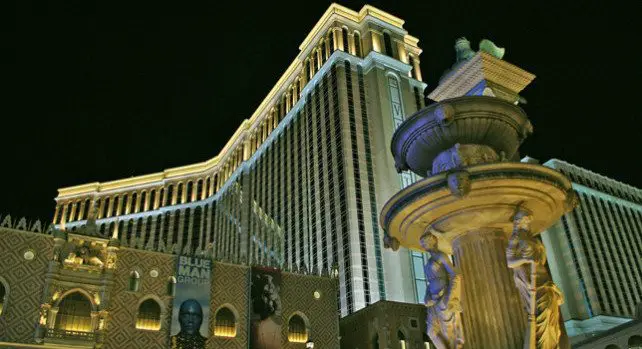 Winding canals, gondolas, and arched bridges complete the whole package of what its name truly signifies, bringing the spirit of Italy at the heart of Las Vegas.
Their unique rooms include sunken living rooms and marble baths with Roman tubs. The eco-friendly Venetian has an array of green initiatives; like LED Lighting, a reclaimed water system, and low-flush toilets.
Mandarin Oriental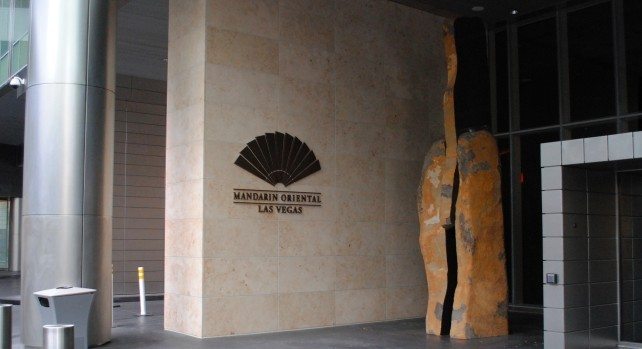 This magnificent resort has 392 sleekly decorated and Asian-inspired rooms and suites. From the elegant bamboo and bonsai gardens, to the serene ambience, the hotel relies on its utter sophistication and high-technology facilities to lure guests back more than once.
The lavish hotel experience is only completed when you cool off on the 8th floor's stylish outdoor deck, where the invigorating pools, large Jacuzzis, and opulently designed poolside cabanas are located.
Aria Resort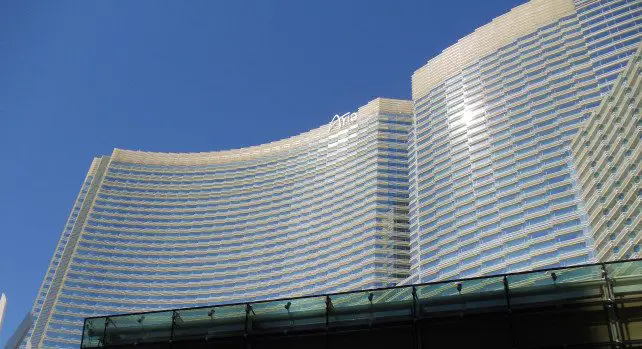 The Aria mega-resort boasts a whopping 4004 rooms, a casino the size of three football fields, sixteen diversely installed restaurants, an Elvis-themed Cirque du Soleil show, and dancing fountains at the entrance area.
Presently the hotel has an impressive collection of modern art and dubbed as the world's LEEd-Gold certified building.
Cosmopolitan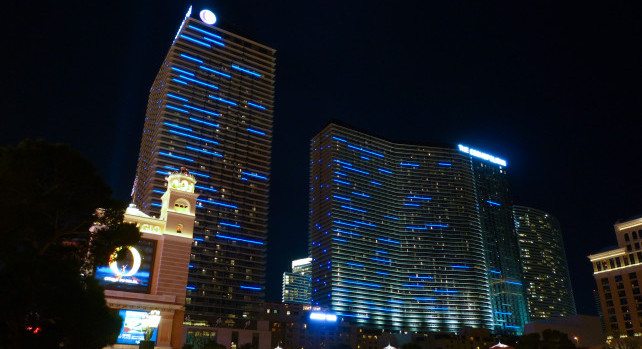 At the heart of the Strip lies a fresh and modern hotel with a wide variety of amenities; transforming Las Vegas holidays into something truly extraordinary – The Cosmopolitan. Each of its rooms has a residential-style design, entrenched with plush sectionals, lacquered coffee tables, marble bathrooms, and in-room technology; allowing you to preset your lighting, music, and temperature preferences.
The 13 first-class restaurants and 5 bars/lounges, makes your stay even more adventurous and exciting.
Trump International Hotel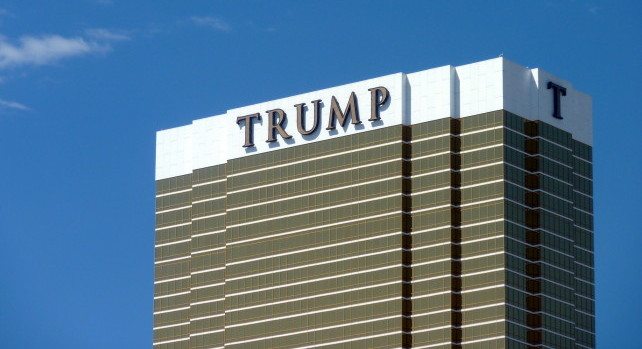 Equipped with 1232 graciously furnished non-smoking guest suites and 50 luxurious Las Vegas Penthouse suites, the 64-story Trump International Hotel is a non-gaming and lavish hotel situated high above The Strip. It is considered to be family-friendly, with rooms containing floor-to-ceiling windows, offering an utterly majestic view, set before a splendid backdrop of the surrounding mountains.
One of the things you shouldn't miss when checking-in is their stunning 7th-floor deck, with a 110-foot heated pool. Not to mention the private air-conditioned cabanas with wet bars and plasma TVs; making your Las Vegas trip worth-remembering.
JW Marriot Las Vegas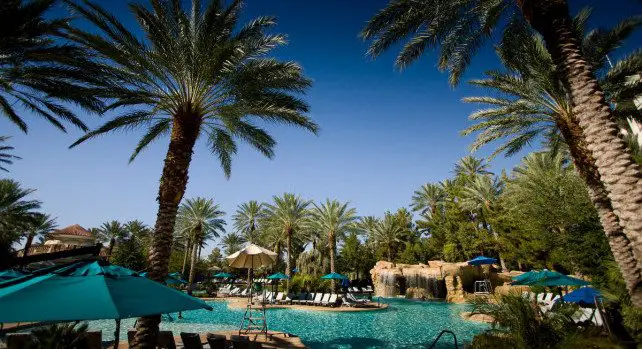 Located in Summerlin, Nevada, the JW Marriot Las Vegas is a lavish hotel with panoramic views of the Crimson Canyons and rugged cliffs of Red Rock. The hotel was listed in the Top 5 Las Vegas Resorts by readers of Conde Nast Traveler, a renowned travel magazine.
Guests are provided with world-class amenities; such as the Mediterranean style spa, international quality golf courses, and a series of restaurants that encompass Las Vegas Dining.
Have you been to Vegas before? Where have you stayed in the past? Let us know in the comments below!