Join us inside regal North India and discover the grand palaces and courts of glorious bygone times. Read on to see just a glimpse of our top 10 North Indian glamorous palace stays!
Since India's royalty conceded power in the mid-20th century, only their titles and the grand buildings that they called home remained.
Today, many of these architectural feats function as glorious hotels that allow you to glide into the inner sanctum where you are treated like a modern-day maharaja, or maharani.
Some of these palace stays in North India even arrange activities that further encourage notions of grandeur. One moment you might be embracing a lavish soak in almond milk and honey, to then tucking into a thali banquet feast served in encrusted silverware.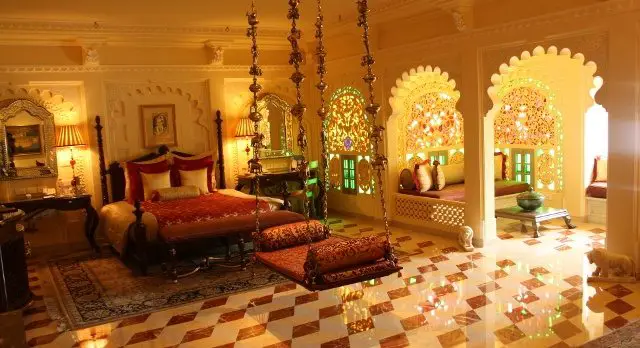 You might find yourself being adorned in traditional costume and jewels by the royal stylist, or playing a game of polo on the lawn.
Palaces
Rajasthan's ancient palaces take on an assortment of styles which are inspired by the origins and imaginations of its various regal families.
1. Rural Rajasthan: Deogarh Mahal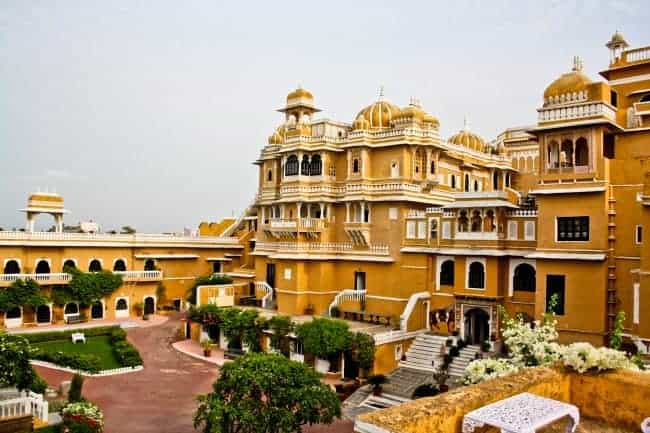 Tucked away down a dusty track in the sleepy village of Deogarh, your first view of Deogarh Mahal could be straight out of a fairytale.
This palace, with its exotic murals and numerous balconies, is still owned and lived in by the former royalty of this region – who are incredibly gracious hosts. Chance conversations with the maharani are often peppered with tales of a fascinating family history.
Embrace the swimming pool, library and tennis courts, and unwind in the spacious luxurious rooms and suites, which are suitably modern.
The evening's authentic and live cultural performances on the terrace are an ideal end to a dream day.
2. Jaipur: Taj Rambagh Palace
The 19th century Taj Rambagh Palace is located close to Jaipur's pink walled city and was the residence of the city's former maharajah until 1957. You will feel like royalty the moment you arrive!
Decorated horses, camels and even elephants, alongside staff dressed in traditional Rajasthani attire, await you at your welcoming ceremony.
The palace is stunning – with marbled corridors and majestic gardens. With palace butlers on hand to attend to your every need, this will be a most memorable experience.
Enjoy a two hour heritage walk around the property to bring the rich history of this regal structure to life.
3. Udaipur: Taj Lake Palace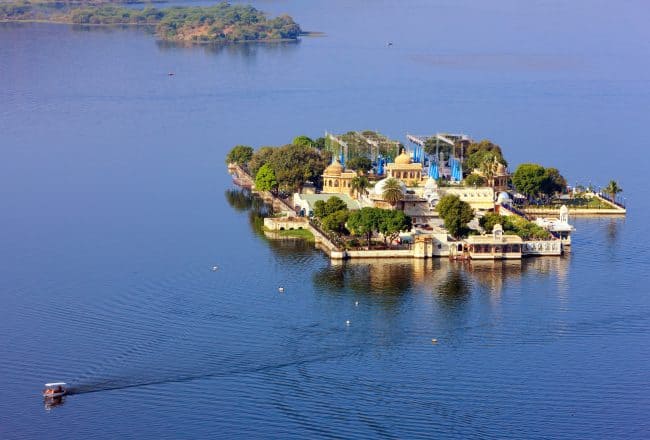 Like the perfect drop in the ocean, Taj Lake Palace is one of the world's most romantic hotels as it sits in the midst of sparkling Lake Pichola in Udaipur. A former 18th century palace, this award winning property has been featured in several classic films; including James Bond's Octopussy!
Boasting all the features of regal living; including stained glass windows, private balconies, and numerous outdoor terraces and gardens for your romantic candlelit dinners, you'll discover a sense of tranquil grandeur.
The hotel can even arrange for you to cruise out on a boat for a unique floating spa massage or dinner.
4. Rural Rajasthan: Raas Devigarh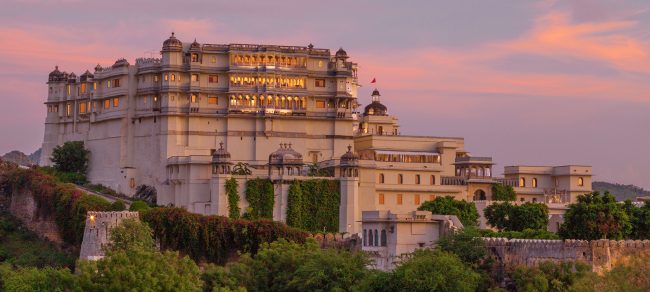 Set upon a hilltop and overlooking the town of Delwara, the 18th century palace of RAAS Devigarh makes a powerful statement.
Once in ruins, this luxurious retreat was perfectly restored over a fifteen year period.
Today, it knits together old world charm with contemporary minimalist chic. The magic is in the variety – one minute you are indulging in the jacuzzi and plunge pool, and the next you are watching the action on the croquet lawn.
5. Hill Fort Kesroli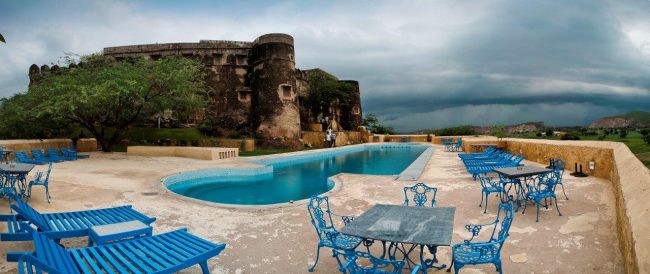 The centuries old heritage property is not just a beautiful facade, but also offers the ultimate detox from big city life. Soak in the stunning sun that has been rising over this hotel for nearly 700 years!
The grand structure has borne testimony to fascinating historical events as the fort changed hands from illustrious Rajputs who claimed descent from a Hindu God, to Mughal Emperors and the Jat community, only to be reclaimed by a Rajput Prince.
Explore ancient ruins, historic step wells and trek through the Sariska National Park when you aren't indulging yourself like a Maharajah within the fort's walls.
Havelis
The large royal families also owned havelis – traditional and often palatial mansions that usually had a focus around central courtyards.
6. Jaipur: Samode Haveli
Located in old Jaipur, Samode Haveli was built 175 years ago as a residence for the rulers of Samode, whose descendants act as impeccable hosts today. Several intimate chowks (courtyards) and a verdant garden connect the guest apartments that embody Indo Saracenic regality and flair. Brimming with artwork and charming relics from throughout history, this is an opportunity to observe the power of time.
Feeling creative? Head to the sister Rajput property of the stunning 475 year old Samode Palace in Jaipur's surrounding region, which has played host and provided inspiration for some of the world's most talented artists.
7. Pali: Chanoud Garh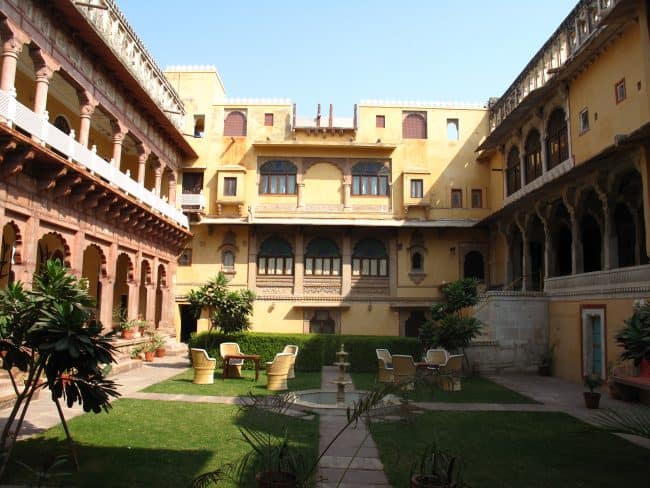 Located in the woodlands of the Aravalli Hills, Chanoud Garh is a secret gem that pays tribute to its former gallant rulers.
From winding marble corridors that lead to fountain courtyards and lawns where peacocks dance, to the Grand Durbars (halls), you'll feel history whisper around you.
Today, the palace is home to the thirteenth generation descendants of its regal founder, who are glad to show you the traditional customs; including the evening aarti (prayer ceremony) in the Janana Chowk (temple room), before you feast on a delicious dinner under the stars.
8. Ramathra: Ramathra Sagar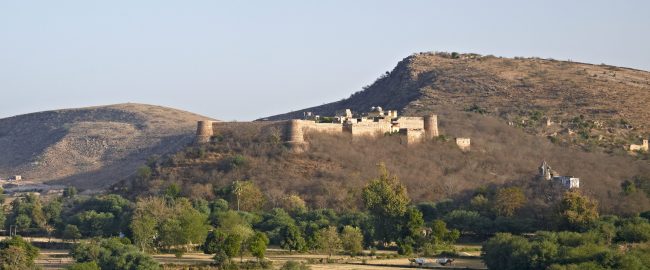 Overlooking miles of serene countryside scattered with farms and a beautiful lake that is home to diverse birdlife, Ramathra Fort in the village of Ramathra is a fabulous secret.
This 350 year old fort is an incredibly peaceful haven away from India's hustle and bustle.
Owned by descendants of the original founder, you can expect spectacular hospitality; including traditional home cooked meals.
Find that perfect spot to dream away the day – we highly recommend the day beds perched on top of the fort walls for spectacular sunsets and sunrises.
9. Rohet: Rohet Garh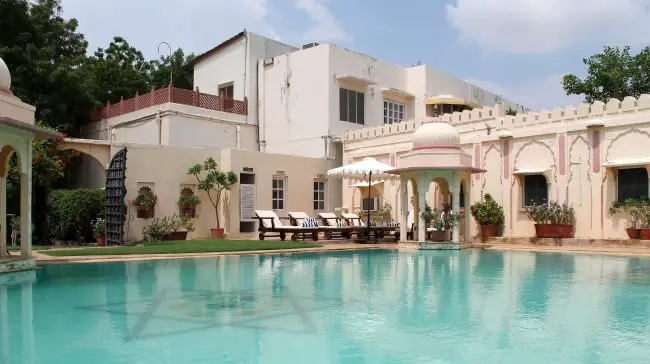 Rohetgarh was built 375 years ago, yet has managed to remain hidden away in the little village of Rohet, which is an ideal gentle haven with its free-roaming peacocks, an array of birdlife and a beautiful lake.
This heritage hotel is owned by a family who can trace their grand lineage back to ancient times, and are always keen to share their passion for the region's famous Marwari horses.
It is with much love that this fort has been preserved; with its Persian carpets, colorful murals and antique furniture.
10. Suryagarh: Jaisalmer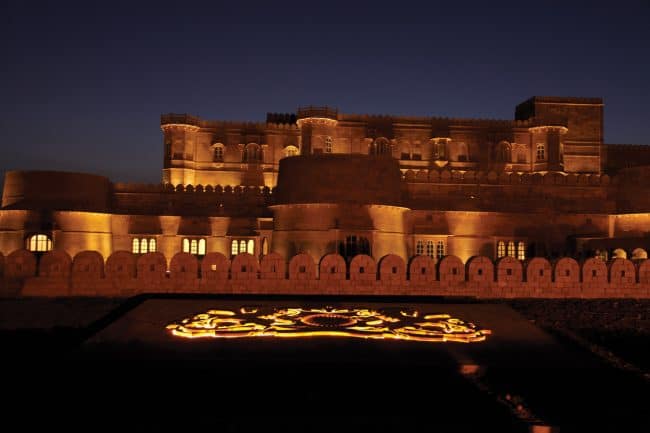 Set on the edge of the mysterious Thar Desert, Suryagarh is a bastion of Rajput glory. Here, fortified sandstone walls rise high above the swirling sands to protect of treasure trove of marbled pathways, period furnishings and a lush green lawn.
Wake to the melodic sounds of flute playing in the courtyard, while away time at the gaming room of erstwhile Maharajas, or combat the desert winds with a refreshing swim.
Just outside lies the opportunity of enjoying a magical dinner on the dunes – why wait?
So after all that, maybe we have tempted you to indulge in a stay at a North Indian palace and live like a king… even if it's only for a short while.