Food is an integral part of any culture, and when travelling abroad, most people prefer to at least dip their toes in and try the local cuisine.
Real food aficionados might like to go a step further and sample some of the more diverse food traditions around the world while on their travels. Here are a few ideas to wet your appetite…
Fish and Chip Festival, Barga, Tuscany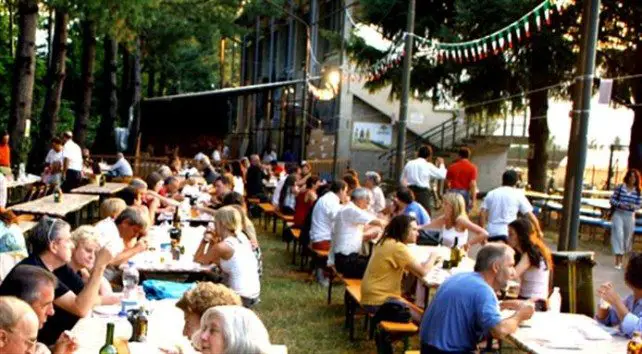 Thinking about Italian cuisine usually conjures up delicious thoughts of freshly picked vine tomatoes, the perfect pizza and row upon row of different flavoured gelato. But fish and chips? Yes, really. Barga prides itself on being a little piece of Scotland in Italy, and so for a couple of weeks every summer (usually towards the end of July), the Sagra del Pesce e Patate takes place, a celebration of "traditional Scottish fish 'n' chips".
Economic conditions in Tuscany forced many Italians to move to Scotland at the end of the 19th century, where they made their money selling fish and chips to hungry dockers. The festival celebrates the affinity between the two nations.
The residents take turns to sit down to a feast of deep fried fish and potato, but in true Italian style, there is usually a freshly made Italian salad or two on hand to rescue your palate from all the grease. It's also washed down with Chianti instead of Irn Bru, which makes it even less authentic. This festival isn't so much about trying new foods, as trying familiar foods in a new setting. You'll never be able to eat your haddock from a wrapper again.
The Cooper's Hill Cheese-Rolling and Wake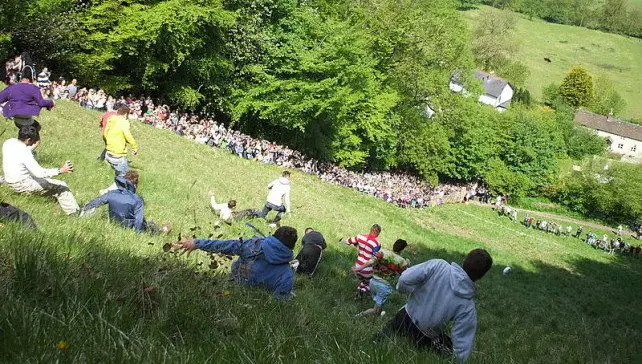 For anyone still wondering why the English have a reputation for being eccentric, the Annual Cheese Rolling on Cooper's Hill in Gloucestershire should go some way to explaining. The event is held every Spring Bank Holiday at Cooper's Hill, in Gloucestershire, and originally only residents of the nearby Brockworth village competed. Now it's a world-famous event, which has been won by US and Japanese competitors.
Although some people believe that the festival is linked to ancient fertility rites, others maintain that it's more likely to do with grazing rights to the common below. Either way, the tradition has been followed since the 15th century.
Competitors take a nine-pound Double Gloucester cheese to the top of the hill, let it go and chase down the hill after it. The first person to cross the finish line at the bottom of the hill wins the cheese. Due to health and safety concerns, spoilsports swapped the real Double Gloucester for a foam replica in 2013, although the winner did still get the cheese!
La Tomatina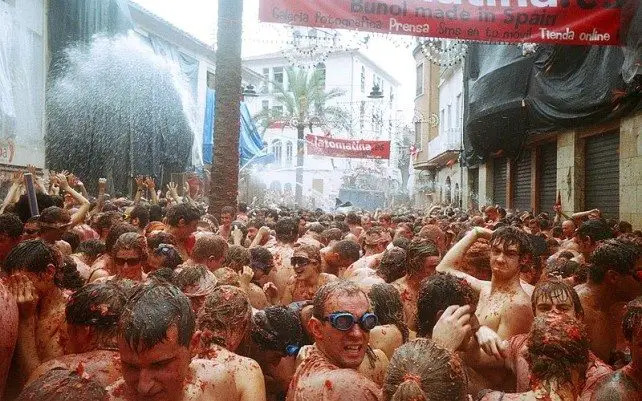 If you don't mind getting messy, this is the festival for you!
For a day in August every year, the town of Bunol near Valencia hosts a food festival with a difference. Food fights are clearly the way to go, as the tomato-throwing extravaganza attracts thousands of people for the last Wednesday in August for the 'World's Biggest Food Fight', where they will pulverise over 100 tonnes of over-ripe tomatoes by pelting each other with them. In 2013 the event was ticketed for the first time, after the numbers of keen tomato-flingers swelled the usually modest population of Bunol from 9000 to 50,000. Now, only 20,000 people are allowed to take part – still a vast number of squished tomatoes though…
It's not all about throwing over ripe fruit; the La Tomantina festival carries on for a week and features dancing, singing and fireworks, plus a paella cooking competition to get rid of even more tomoatoey goodness.
Noche de Rábanos – Night of the Radishes
Mexico isn't short of reasons to hold spectacular festivals, but if you need another reason to celebrate, radishes are as good as any. La Noche de Rábanos is celebrated on December 23rd every year and has been a big part of the annual Christmas celebrations in Oaxaca for over 100 years.
The focal point of the festival is the work of the Mexican craftsmen who carve giant vegetables into ornate sculptures, making everything from miniature animals and human figures to representations of events; such as the Gueleguetza Dance and traditional Nativity scenes. They don't last very long, obviously, but the celebrations continue over Christmas Day and Boxing Day and include floats, parades and firework displays.
Gilroy Garlic Festival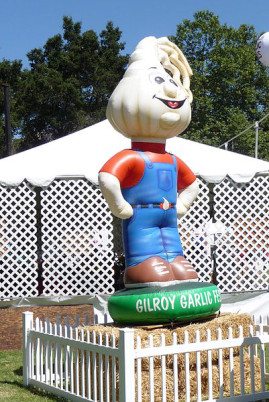 If you're around Gilroy, California on the last weekend of July, you might notice a pungent aroma. It could be the Gilroy Garlic Festival, one of the largest food festivals in the United States.
The festival started in 1979 as a way to raise funds for local charities – and it's raised about $9 million to date. The fair is definitely for lovers of garlic – along with cooking demonstrations, music, and arts and crafts, visitors have the opportunity to sample such culinary delights as garlic ice cream. Aspiring beauty queens can even enter the Miss Gilroy Garlic Festival Queen crowning ceremony.
All these traditional festivals go to show that you really can make a celebration out of just about anything! Why not incorporate one of these awesome food festivals into a tour of europe.