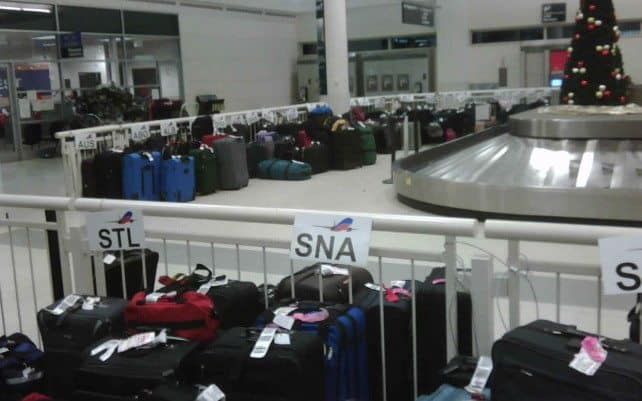 Between waiting in lines, going through security and paying exorbitant baggage fees, checking your luggage while flying has become quite a hassle. You can avoid the most of the bedlam by utilizing a few tips. From using leather backpacks as a carry-on to wearing as much as you can in-flight, try these four tricks to avoid paying more for your luggage:
1. Know the Rules
Because it seems like there are new flying regulations every month, it is important that you read up on what the rules are before you take off. You should know exactly how much liquid you can take on-board, because you may be able to carry on all your necessary toiletries or buy anything you can't pack once you reach your destination.
Additionally, knowing which airlines charge what may play a factor in which flight you book. A low-cost flight could end up costing you more if the baggage fees are a factor. Be smart about your booking by knowing how many bags you will have and what it might cost you to bring them.
2. Travel Light
Ideally, you can avoid checking a bag altogether by only traveling with a carry-on. However, if you prefer to tote your leather suitcase along, you can minimize being penalized for weight by keeping your luggage as light as possible. Some airlines only charge you for bags that weigh over a certain amount, or they may hit you with additional fees if your bag weighs in above a certain limit. Therefore:
Weigh your suitcase at home so you know what to expect , and determine if you need to re-pack
Put the heavy stuff in your carry-on bag if possible
Wear your bulky items including heavy boots and big sweaters instead of packing them away
3. In the Bag
Armoured suitcases will protect your belongings, but they also largely contribute to the number on the scale. You can maximize both your carry-on capacity and your checked bag if you choose wisely. For your checked bag, pick lightweight luggage so the pounds come from your stuff, not your suitcase. Remember that you can carry on one bag and one personal item. That means you can take a laptop bag and one of those leather backpacks you have been eyeing, which means you have extra storage space.
4. Be Strategic
If you are flying with your family, take into consideration that not everyone may need to have their own suitcase. See if you can double-up to save a little money on a baggage fee. Additionally, certain items fly for free, such as car seats and strollers. Tuck a car seat into a large duffel bag for protection, and you may be able to throw some of the baby's clothes and other supplies in there with it. Finally, check to see if your credit card is partnered with an airline. In some cases, booking your flight with a co-branded cards means you will not have to pay for baggage fees.
By planning in advance and researching the rules, you will know what to expect when you show up at the airport. Wear your bulky items and maximise the space you have, and you will be able to dodge unnecessary baggage fees.