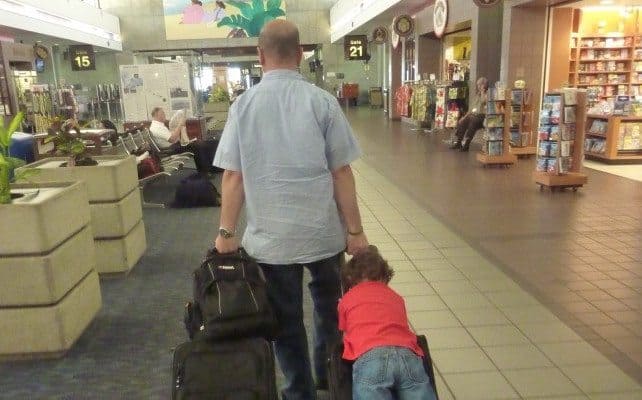 Travelling with your family can be a great way to create beautiful and lasting memories, but it can be tricky and stressful too, especially when you have toddlers and children with you. Double that stress when you are on long flights!
Children throwing tantrums can cause a lot of stress, not only to their parents but also to all the passengers around them. What's worse, parents can't just leave the scene and get away from everyone else.
When soaring thousands of metres above the ground, parents are often held hostage by their child's moods and behaviour. Here are a few tips you might find useful when flying with your kids.
1. Take Advantage of Your Kids' Bio-Clock
If the schedule permits, try to match the time of your flight with your child's age. For example, if you are taking an active 2 year old, choose a flight that takes off very early in the morning. There's a huge chance that your kid will just drift back to sleep soon after the plane has taken off. Infants are the easiest to tag along since they sleep almost any time of the day.
2. Bring Individually Packed Diapers
Put a plastic bag (for future disposal) in each diaper pack along with wipes and a disposable changing mat. Put two packed diapers in your seat compartment so that you can easily grab one whenever you need them.
3. Pack Lots of Treats
Treats can be effectively used as "weapons of distraction" against children. Given how food sold on the plane is ridiculously priced, your best option is to pack goodies before your flight. Buy individually packed snacks and drinks so that you can easily distribute them to your children.
Make sure that you hand your children the treats before boarding and immediately after landing, the two instances when they are most grumpy and irate. Chocolate, chips and candies are often the most effective treats.
4. Bring Straw-Mugs
Apart from the fact that kids love to drink from straw-mugs, these useful containers also keep children from spilling their drinks. Bring bottles of water, juice or milk so that you can fill their cups whenever they ask for a drink. Don't rely on the plastic cups available on the plane.
5. Pack New Toys
Children are easily captivated by stuff that they see for the first time. A new toy or book will grab your child's attention, keeping them quiet and busy for a while. Bring even more toys if you are taking long flights. Just make sure you don't give them toys which make noise or have very bright lights, otherwise they might disturb the passengers around you.
To keep their curiosity and surprise levels at a high, try bringing out the toys one at a time, handing over a new one when the meltdown starts.
Have you flown with young ones yourself? What tips do you have to keep them behaving on a long flight? Please let us know in the comments below!