When holidaying in Thailand, there is a wide range of day trip options on offer; however, you should use your judgement and do a bit of research when deciding which to companies you use and support; as unfortunately when it comes to wildlife, different standards tend to apply in Thailand. Here are a few options recommended by travellers.
Elephant Encounters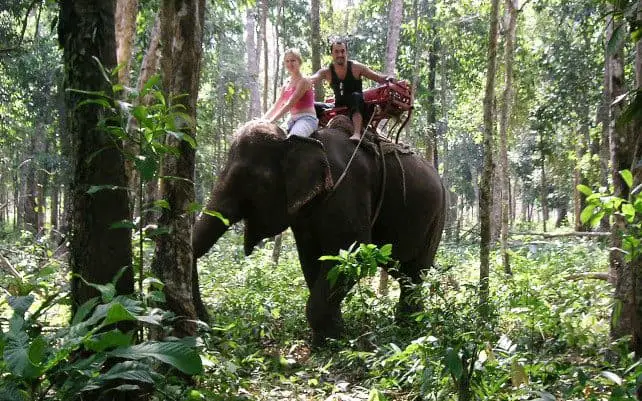 A holiday in Thailand usually includes an encounter with the local elephants, with many volunteer centres, as well as animal hospitals, offering this experience to travellers wishing to support a good cause, and get a closer look at these magnificent creatures.
The Lampang Thai Elephant Conservation Centre near Chang Mai was created in 1991 as a rehabilitation facility, including providing hospital services for ill or injured animals and programmes aimed at re-introducing elephants into the wild. The Centre currently cares for about forty elephants and their newest fundraising initiative is 'dung paper' – paper made from elephant dung, which turns into surprisingly lovely textured greeting cards and other products.
A day visit at the Centre involves witnessing the elephants bathing, a traditional show of skills involving logging and painting, a visit to the hospital and nursery, an elephant ride and feeding. There are also family stay options and 'mahout training' for travellers who wish to stay longer and learn more about the elephants and the Centre, as well as Thai culture.
Khao Yai National Park

The best place in Thailand to observe wildlife in its natural habitat is the beautiful Khao Yai National Park; located 180km south-west of the capital, Bangkok. The park is home to one of the largest intact monsoon forests of mainland Asia, earning its Unesco World Heritage Site status.
There are plenty of tour options to the park, including day trips, extended jungle trekking, long boat trips, kayaking and rafting, and a variety of day and night-time safari excursions. There is a large variety of animals to see here; including herds of wild elephants, gibbons, pig-tailed macaques, black bears, tapirs, sambar deer, Great Hornbills, wild pigs and bats.
Avid hikers will find over 50km of trails to enjoy, all of various grades of difficulty. There are plenty of beautiful waterfalls to admire as well, including the 150m Haew Narok Waterfall and Haew Suwat, which runs over a 20 meter cliff into a large pool below, as seen in the movie The Beach.
Cobra Show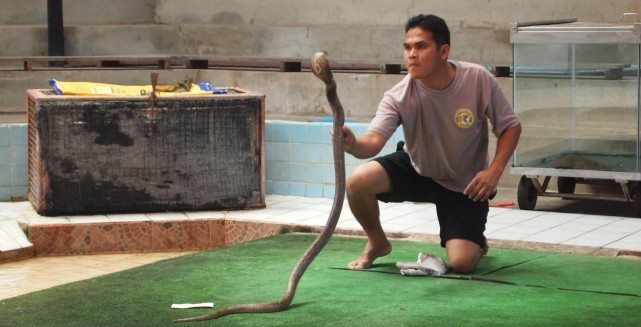 Not for the faint of heart (or those who have a serious fear of snakes), a cobra show is not an attraction for everyone, but it scores points in terms of uniqueness. There are snake farms and 'Cobra Villages' near most tourist areas across the country, proudly displaying many deadly specimens and the truly amazing skills of their respective 'snake men,' who perform feats of courage and skill beyond belief to most Western visitors.
Gibbon Rehabilitation Project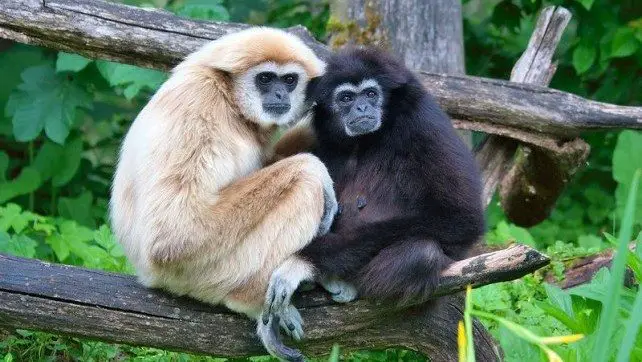 Located by the Bang Pae Waterfall in Phuket, the Gibbon Sanctuary does a fabulous job of rehabilitating and releasing Gibbons into the wild as well as educating the public on their plight. A very informative and engaging conservation centre, entirely run by volunteers and well worth supporting.
For animal lovers and holidaymakers, Thailand is the perfect place to get up close with a variety of wildlife. For more information or help planning your trip, get advice from your local travel consultants.