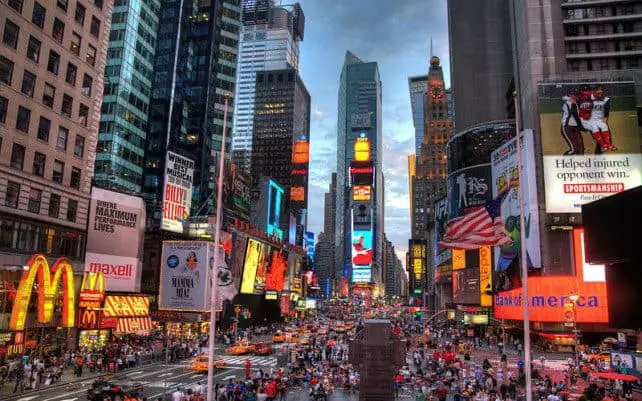 If you've never been to the most exciting city in the world, your first time can be thrilling and for some pretty overwhelming. There is so much to do, so much to experience, you may have no idea where to begin.
Your time there is precious, so make sure you follow some of these top tips to get the most out of your trip to New York; rather than spending your days there planning, getting lost and wasting time.
Plan an itinerary and book your trips – Before you go, it's a great idea to plan your days and prioritise where you want to go. Booking tours and researching the tourist attractions before you get there is also highly recommended. At busy times of the year (like Christmas), you could find tours, Broadway shows and tourist attractions sold out. If there's something you don't want to miss out on, book ahead; you may also be able to take advantage of any online offers.

Get a tour guide – I don't mean literally, but in the world of new technology there are some great apps to guide you round NYC:
NYTimes The Scoop – This app gives you advice and tips on events, restaurants, bars, and so much more from the Times editors and reporters, so it won't just be your typical tourist haunts, but places the NYC locals love.
Urbanspoon – You may have already heard of this one, but they have a great app that can help you choose from one of the thousands of restaurants, cafes, and bars in NYC.
Hopstop – The subway system is the quickest and best way to get around the city; Hopstop will give you the quickest and best route to your destination; it also accounts for delays and construction. Perfect!
SitOrSquat – Now we all know how bad it can be to get caught short and have no idea where the nearest bathrooms are. Never fear, this great app will show you where your nearest bathroom is.
Tipping – This is part of the US service economy and even though you may not tip in your home country, it's advised to do so here.
Restaurants – Tips are usually included in your bill, but read the bill carefully to make sure a 'gratuity' or 'service charge' is included. Double check they haven't added on an extortionate service charge, if you're confused it's totally acceptable to speak with a manager. Wait staff usually expect around 15-20% if it's not included on the bill.
Hotel Doorman – $1 per bag for help bringing in your luggage and $1 per person if they hail you a cab.
Hotel Housekeeper – $2-$5 per night, it's also customary to leave a note thanking them for their services.
Tour Guides – $2-$5 per person for those in your group. It's advised to check with the tour company if tips are included in the cost of the tour.
Hotel Concierge – $5 for getting you reservations or tickets – you should pay around $10 if they worked hard to get it. You may pay up to $20 depending on the request. You don't need to pay a tip for asking directions or suggestions.
Bartenders – $1-2 per drink, or 15-20% of the tab.
Taxi Drivers – 15% should be enough, but pay a little extra if they help with bags.If in doubt, go for around 15-20% to be safe.
Be spontaneous – OK, I know I said plan your trip, but leave 1 day for soaking up the atmosphere and taking in the city. You may find some amazing places off the beaten track.

Experience central park – Take in this iconic park on foot and visit some of its hotspots. Ride the central park carousel, take a picnic, enjoy a guided tour, row a boat across the lake or enjoy the Central Park movie sights tour!
I could go on forever, but my final tips for visiting NYC are try the amazing pizza at one of the many pizza joints and head to Magnolia Bakery for their amazing cupcakes.
If you have anymore, please let us know your top tips!