Theme parks have become an integral part of pop culture since the late 1950's. With entertainment giants like Disney and Universal, the United States has consistently drawn enormous crowds. However, theme parks from around the world (particularly in Asia) have recently emerged to rival these Goliaths.
So in order of annual attendance figures (not including duplicates from the same chain… or else we'd be boring and just be listing all of the Disney parks), here are the world's top 10 most visited theme parks, attracting visitors from all over the globe.
10. Efteling- Kaatsheuvel, Netherlands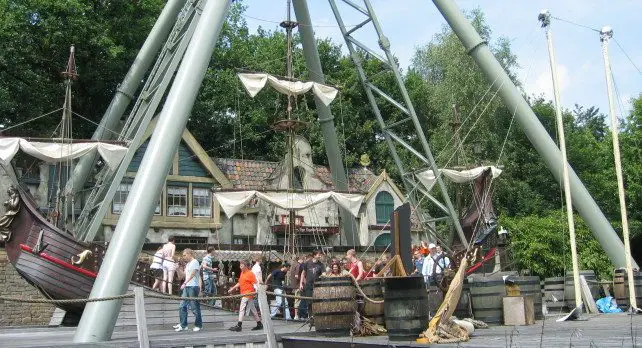 Annual Attendance: 4.1 million
Number of rides / attractions: 34
Best Rides: Python, Joris en de Draak, Aquanura, Dreamflight
Efteling is a fantasy-themed park located in Kaatsheuvel, a town in Loon op Zand, Netherlands. Since its opening its gates in 1952, Efteling has remained the largest theme park in the country, with more than 4 million visitors each year.
The attractions in the park are mostly based on fairy tales, folklore and fables, as well as local legends and myths. Many of these attractions are entirely unique to Efteling; with the record-holder rides of 'Spookslot' (the world's largest haunted castle) and 'Dreamflight' (world's best dark ride).
Efteling also has its own theatre, hotel and golf park.
9. Busch Gardens Tampa Bay – Florida, USA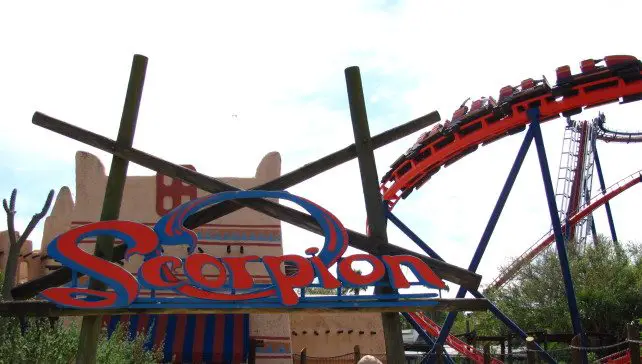 Annual Attendance: 4.2 million
Number of rides / attractions: 48
Best Rides: Sheikra, Kumba, Montu & Scorpian
Busch Gardens is a 335-acre African-themed animal park opened in 1959. The park started with free admission until it began offering more complex attractions and rides in 1965. Visitors can now explore the park's 29-acre "Serengeti Plains", which has become the home of many African animals.
The park is divided into nine areas, each having a different theme; including Bird Gardens, Congo, Crown Colony Plaza, Egypt, Jungala, Morocco, Nairobi, Stanleyville and Timbuktu.
There are many themed shops in Busch Garden selling unique souvenirs. Visitors can also ride The "Stairway to the Stars" to reach the roof of the park's brewery; offering various free beer tastings or dining in themed restaurants.
8. Europa Park – Rust, Germany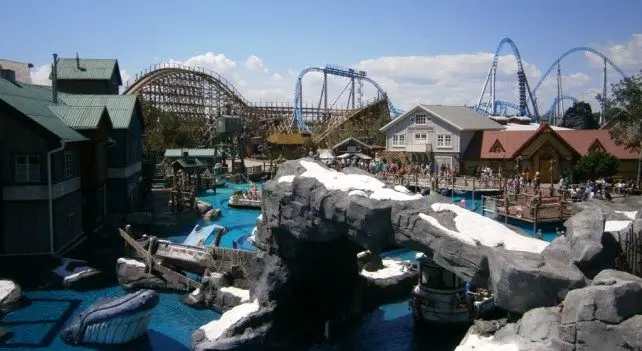 Annual Attendance: 4.7 million
Number of rides / attractions: 106
Best Rides: Blue Fire Megacoaster, Euro-Mir, Silver Star, Wodan
Currently the largest theme park in Germany, Europa Park is the second most visited theme park in Europe (next to Disneyland Paris). The park has 16 major regions, each showcasing different rides and attractions. Europa Park also has five hotels, a guest house, a campsite and a Tipi village.
Guests who enjoy the theatre will love Europa Park even more with of the performances showcased in the park. Some of these include "Luminocity" (a comedic gymnastics act), "The Devil and The Queen" (a theatrical jousting show) and "Supr'ce" (a theatrical skating show).
Guests can also party all night at the beach with nothing but great party tracks playing in the background.
7. SeaWorld Orlando – Florida, USA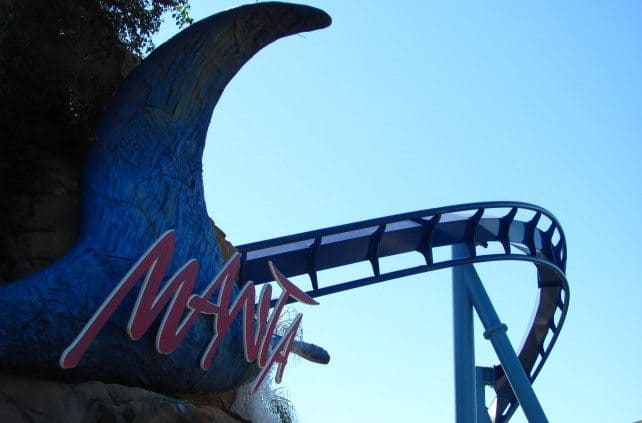 Annual Attendance: 5.2 million
Number of rides / attractions: 52
Best Rides: Shamu, Kraken, Manta
SeaWorld is a 200-acre marine park, combining both an amusement park and aquarium in one. Guests can experience many great activities in the different attractions around the park, including a rainforest and a lot of lagoons.
The park was primarily designed to make learning about our ocean's most amazing creatures fun, exciting and memorable. SeaWorld's most popular resident star, Shamu the killer whale, along with sea lions, dolphins and other sea creatures, have scheduled performances throughout the day.
6. Lotte World – Seoul, South Korea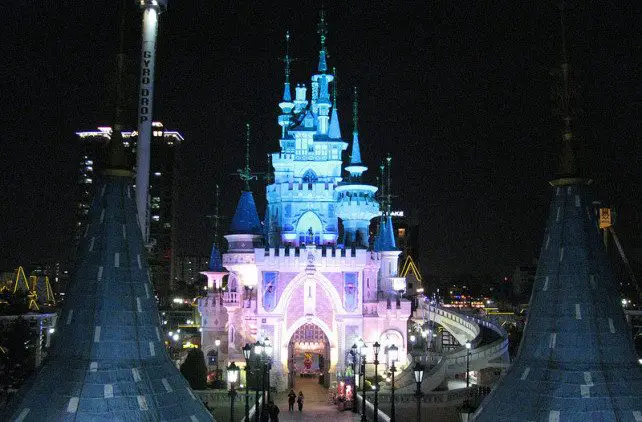 Annual Attendance: 5.7 million
Number of rides / attractions: 35
Best Rides: Pharaoh's Fury, Atlantic Adventure, Gyro Drop, French Revolution
Lotte World has the Guinness World Record for the largest indoor theme park in the world; with the main attraction being a man-made island built upon a lake, called "Magic Island". The island is linked to the other areas in the park by a series of shopping malls, a monorail, movie theaters, a folk museum and a luxury hotel.
Lotte World is divided into two main themed sites; the indoor "Adventure" park and the outdoor "Magic Island". Indoor parades and other activities are constantly happening everywhere in Adventure Park. Guests can visit different "districts" within the indoor park and experience the different countries that each represents.
Magic Island's most prominent attraction is the Magic Castle, where guests can watch parades and other live shows. This artificial island has a total of 17 exciting rides like the Gyro Drop, Pharaoh's Fury and Atlantic Adventure.
5. Nagashima Spa Land – Kuwana, Japan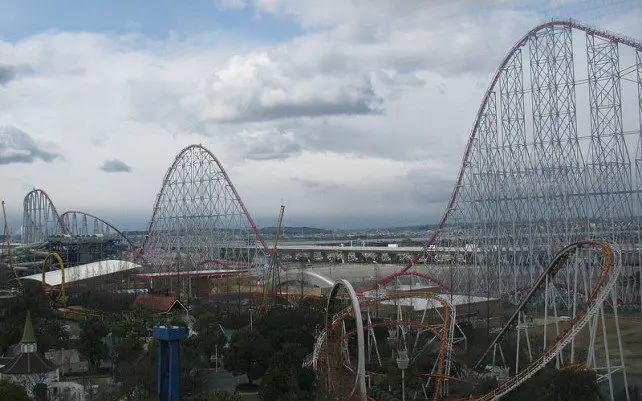 Annual Attendance: 5.8 million
Number of rides / attractions: 45
Best Rides: Steel Dragon 2000, White Cyclone, Ultra Twister, Giant Frisbee
Nagashima Spa Land is one of the largest amusement parks in all of Japan; featuring 10 roller coasters, many more rides, a water park and a gigantic 90-meter tall Ferris wheel!
The most popular roller coaster in the park is the Steel Dragon 2000; the longest steel rollercoaster in the world! It was also the world's tallest complete-circuit roller coaster when it opened in 2000, but it lost the record three years later when the Top Thrill Dragster opened at Ohio's Cedar Point.
Nagashima Spa Land is also home to the world's third longest wooden roller coaster, the White Cyclone. In terms of length, the White Cyclone might be a little shorter than the Steel Dragon, but it is tall enough to get the record as the world's seventh tallest roller coaster! It is interesting to note too that the White Cyclone is constructed from enough wood to build close to a thousand houses!
4. Ocean Park – Hong Kong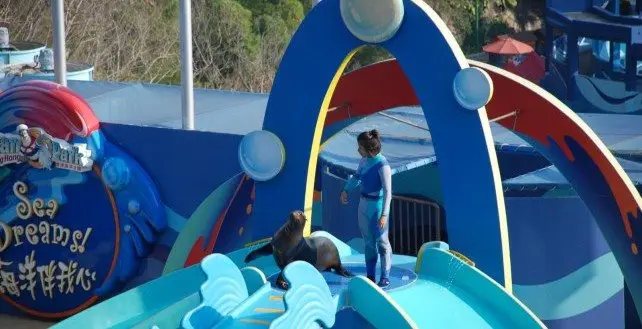 Annual Attendance: 5.9 million
Number of rides / attractions: 56
Best Rides: Hair Raiser, The Flash, The Abyss, The Dragon
Since its opening in 1977, Ocean Park has grown to become one of the most awarded theme parks in the world. Ocean Park is an oceanarium and amusement park in one, featuring around 35 different kinds of attractions and rides for visitors to choose from. Some of the most popular are the giant panda habitat and the four-storey aquarium, containing more than 2000 fish!
This 201-acre park is divided into two areas, the Headland and the Waterfront, with visitors being able to get around using shuttle buses or through Ocean Park's very own cable car system and funicular railway.
The world's second largest outdoor escalator is also found in this park.
3. Everland Resort – Yongin, South Korea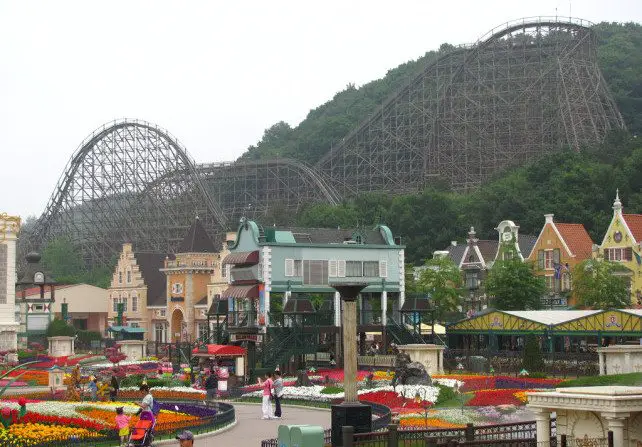 Annual Attendance: 6.5 million
Number of rides / attractions: 43
Best Rides: Rolling X-Train, T Express
Everland Resort is South Korea's answer to Disneyland. In terms of land area and number of attractions, this theme park lays claim to be the fifth largest in the world. Everland is located just a couple of miles outside Suwon, a major industrial city in South Korea.
Everland is divided into zones that offer different themes; among the favorites being Magic Land, American Adventure, European Adventure and Safari. Children and adults alike will adore Safari zone's collection of exotic animals; like bears, elephants, giraffes, lions and tigers.
The park also has a racetrack for racing enthusiasts, but is also abundant in natural beauty, with luscious and colorful foliage decorating the entire resort.
2. Universal Studios – Osaka, Japan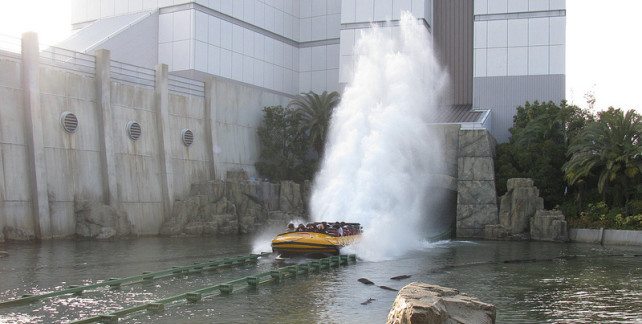 Annual Attendance: 8.5 million
Number of rides / attractions: 14
Best Rides: The Amazing Adventure of Spiderman, Hollywood Dream, Jaws, Jurassic Park
Japan's Universal Studios showcases the best attractions located in its counterparts, found in Orlando and Hollywood. The combination of these parks gave birth to a theme park that offers a variety of endless amazing experiences: theme park rides, live-action shows and restaurants, along with world-class shops carrying merchandise from Universal Studios' most renowned movie franchises.
Among the popular rides in the park are the "The Amazing Adventures of Spider-Man" 3D ride and Jurassic Park, where guests get the chance to come face to face with a roaring T-Rex.
1. Walt Disney World Resort – Florida, USA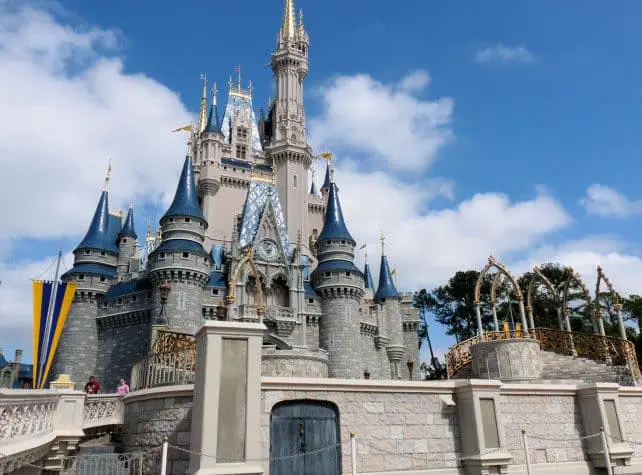 Annual Attendance:
Magic Kingdom: 17.1 million
Epcot: 10.8 million
Animal Kingdom and Hollywood Studios: 9.7 million
Number of rides / attractions: 37
Best Rides: Splash Mountain, Space Mountain, Tower of Terror
Opened in 1971, Disney World is considered to be the first theme park to resemble what we know about theme parks today. In fact, most of us can easily associate the phrase "Disney World" to Mickey Mouse and the other mascots, castles and fireworks! So famous is the iconic Disney World is that even after more than 40 years, it has remained to be the most popular theme park in the world, with close to 17 million guests visiting Magic Kingdom alone.
Other notable attractions include Epcot, Hollywood Studios and Animal Kingdom. Added to these attractions are the two gigantic water parks of Typhoon Lagoon and Blizzard Beach.
How many of these have you had the pleasure of visiting? Are there any other theme parks you recommend visiting? Let us know in the comments below!