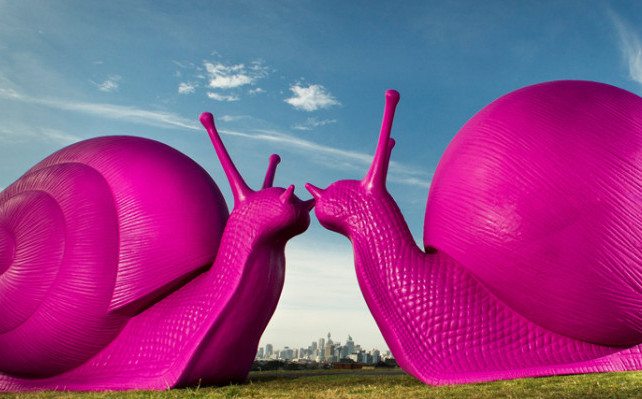 Sydney City has thrown open it's doors once again to celebrate the ever-amazing talent-pool harboured in her great shores.  Colour, creativity, sound, vision and textures – all showcased this year during the magnificent Art and About Sydney Exhibition, 2013.  With a plethora of options to dazzle the mind and enliven the soul, you are bound to find something that ticks all the boxes for you!
In its 12th year, the exhibition has been celebrating in style with giant snail sculptures, craft-a-thons and a pop-up cinema on the list, so there is something guaranteed to wet your creative appetite.
Here's a snapshot at what is happening over the last few days of the exhibition.  It's certainly not too late to get some culture into your bones and experience a great time.  You can also visit the official website for more details on events, times, locations and how to get around.
Asia on Your Doorstep
A variety of eateries around Chinatown are dazzling the senses as part of this year's celebrations.  You'll be amazed at the diversity in the food choices and you may have a bit of trouble choosing where to eat! There are a number of participating restaurants and you can find them right here at the Asia on your doorstep website. There are literally dozens of restaurants to choose from!
A couple of other great options for you over the next week are the Chinatown Night Markets in Little Hay Street and if you have a love for live cooking shows, you can't miss watching aspiring young chefs working hard to impress none other than MasterChef winner Adam Liaw at Market City.
After something a little more artistic?
You need to get down to Hyde Park and check out the new venue for Sydney Life, which is showcasing both emerging and established photographic talents.  This is all about the city that lies beneath the stereotypical image that we have imprinted on our psyche, giving you the opportunity to witness both the inner world and the public world of who we want to be and who we really are.
Artists such as Liane Rossler (co-founder, former designer and director of Dinosaur Designs), Moshe Rosenveig, fonder and director of Head On photo festival, and Sandy Edwards, founder of ARTHERE and curator at Stills Gallery, are the illustrious panel judging this years' Sydney Life Prize, with the most outstanding work this year receiving a whopping $10,000 prize.
Adventurers Alert!
Perhaps you'd like to do something interactive, something hands-on?  Well that's no problem as this year the festival includes the amazing imaginative model railway town 'I think I can', located at Central Station.  You are invited to engage and play – step into the magical world of Springfield via a tiny puppet avatar and watch as each character comes to life through an online blog and imaginary newspaper. Certainly, one to take the kids to!
Or, if you are looking for something adventurous, why don't you stop by Tag Town and participate in a photographic scavenger hunt, (assisted by GPS) to find actual locations throughout the city?  This is bound to be a great rush for the challenge junkie and extroverts will love the interactive nature of this idea.
For the Culture Lover in all of us
Nothing really beats the moment when you experience a connection with a culture that seems almost older than time itself.  As part of the exhibition, The Artery is holding free curatorial talks that explore the timeline of contemporary Aboriginal Art.  You can catch the last tour on Saturday 19th at 11 am and it goes for an hour.  If you miss that, don't worry, the gallery is open 7 days a week, and will be worth the effort. Located in Darlinghurst, opposite the popular 'Le Petit Crème' café, you can stop for a bite after your culturally inspired experience.
So there you have it.  A choice selection of inspirational ideas and experiences that you can have before the exhibition completes another exciting year of celebrating our great city and her inhabitants.  After a long and motivating day, you can catch a train back to your hotel – being only a ½ hour train ride away from Central Station, you'll be hitting the nightlife before you hit the pillow!