Why choose between your eyes and your stomach when you can satisfy both? Marvelling over spectacular views doesn't have to come second to hunger.
There are restaurants in the world that have gone that extra mile to give guests the best dining experience possible. Here are just some of them:
Restaurant: 1-Altitude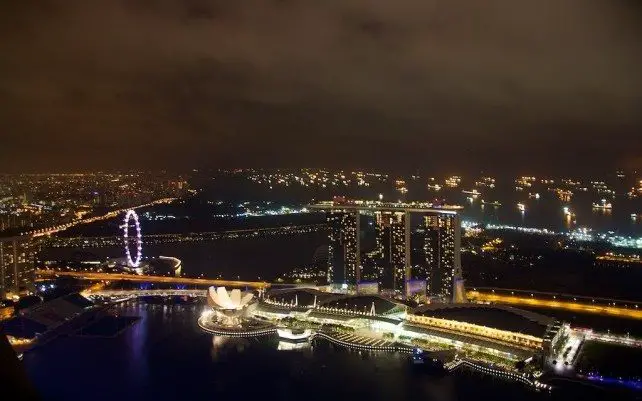 Address: OUB Centre, One Raffles Palace, 63rd level, Singapore
The topmost three levels of the famous 63-storey OUB Center in Singapore is occupied by perhaps one of the city's finest restaurants, 1-Altitude. This dining and entertainment avenue sitting on Singapore's answer to Wall Street, offers the loftiest view of the city. The view becomes even more breath-taking at night, when the city lights turn on.
Apart from the view, 1-Altitude also has an array of high-quality food and drinks. The restaurant's best sellers are their satay platters (a spicy mix of chicken, pork and beef), wood-fired pizzas and famous Turkish flat bread.
At night, the restaurant turns into a hideout of young professionals unwinding after a day's work. 1-Altitude bartenders will prepare anything from classic mojitos to complicated, albeit creative, cocktails to customer's liking. One of 1-Altitude's unique mixes is the "Narcissist", which is a combination of lime, rosemary, raspberry and peach soaked in vodka.
Restaurant: Alma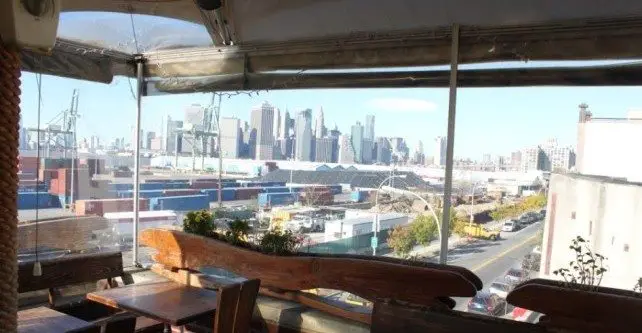 Address: 187 Columbia Street, Brooklyn, New York City
It's an obvious fact that you will have to go a little further away from something in to see its most expansive view. This is very true with USA's most talked-about skyline, yes the one in Manhattan! Those who wish to see the entirety of the celebrated Manhattan skyline actually need to leave Manhattan Island.
Alma, which is also one of Brooklyn's top dining institutions, spans over 3 levels and has a 50-seat garden restaurant on its rooftop. This allows guests to bask on Manhattan's beautiful skyline and as a bonus, see the Statue of Liberty in full view. Of course, Alma is not only a superb restaurant because of its spectacular views; it also serves world-class dishes like the Chilaquilles, Chile Relleno and Pollo Adasa Torta.
Restaurant: Bosco Bar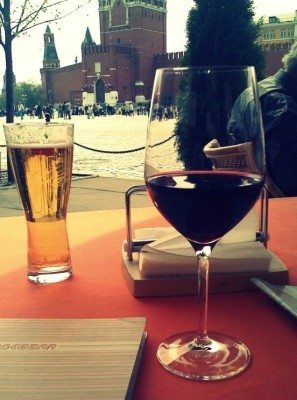 Address: GUM Department Store, 3 Red Square, Moscow, Russia
The Bosco Bar Restaurant is located in a three-storey building along with nine others; but Bosco Bar has a clear upper hand over its competitors – it made dining with a spectacular view affordable. Though it is located in the Red Square (where the wealthy shop for another Hermes bag or sample the latest from Armani), Bosco Bar actually offers dishes at a price that is not difficult to swallow.
From the restaurant's dining area, guests can see the Kremlin, the Cathedral of St. Basil and the famous Lenin's mausoleum. Bosco bar's interior is inspired by the 70's and this transcends to their menu. Guests can order traditional Russian favorites like the borscht and stroganoff, all at a very fair and reasonable price.
Restaurant: Boucan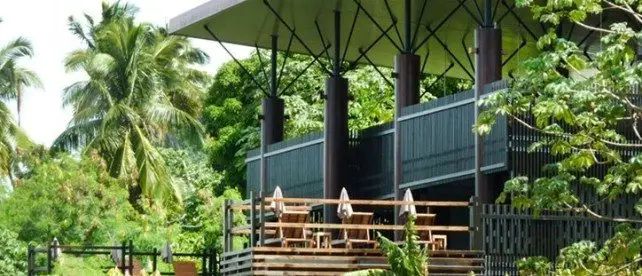 Address: Hotel Chocolat, Rabot Estate, Soufrière, Saint Lucia, West Indies
Everything listed in the Boucan Restaurant menu is screaming chocolate. And, shouldn't they be? The restaurant sits at the very heart of a famous chocolate plantation in Saint Lucia, one of the islands that belong to the Lesser Antilles in the West Indies.
Chocolate lovers will definitely drool over every item in the restaurant's menu. To name one, sautéed prawns are served with tapenade consisting of olives, anchovies, capers, and yes, lots of chocolate! Even green salads are tossed in different kinds of chocolate bits. And, of course, the Boucan Restaurant is home to a lot of chocolate-based desserts.
The restaurant was established in 2011 by two chocolatiers from Britain. The chocolate theme of Boucan restaurant was inspired by its location, where stood a 323-year old chocolate plantation.
On top of their fine dishes, Boucan also allows their guests to experience dining in the backdrop of the lush-green 2600-feet Piton Mountains.
Restaurant: Chez Manu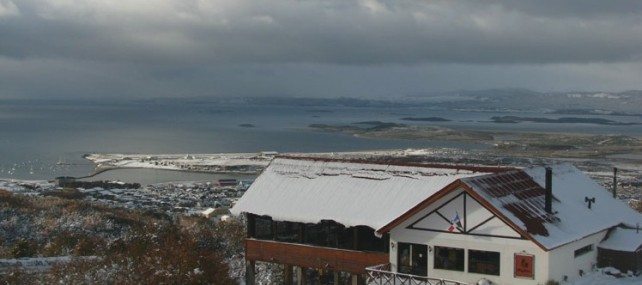 Address: Fernando Luís Martial Avenue, Ushuaia, Argentina
Built on a lonely hill sitting on Ushuaia, Tierra del Fuego is Chez Manu, a French restaurant that appears to have the phrase "to impress" as its theme. Surely enough, first-time guests will definitely be surprised to know that somewhere on the edge of this planet lays a restaurant that can serve world-class food.
And Chez Manu does not stop there; guests will also be impressed of the restaurant's perfect location! From the dining area, guests will be able to see the amazing Beagle Channel and the parade of ocean vessels traversing the Great Southern Sea and the Great Antarctica.
To complete the overall feel of the Andes, Chez Manu has filled its menu with seafood; including salmon, bay, hake, herring and even giant crabs! To those who are not fond of seafood, there are dishes made from rabbit, lamb and beef.
Restaurant: Ithaa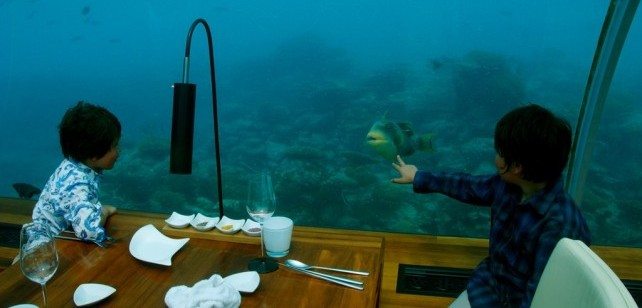 Address: Conrad Maldives Hotel, Rangali Island, Maldives
The Ithaa Restaurant in the Rangali Islands of the Maldives, is like Atlantis incarnate. Located some 16 feet under the Indian Ocean, this unique underwater restaurant is definitely a stunner. The restaurant is the perfect hideaway for anyone who wish to escape from the busy world.
Diners get to enjoy a multi-course menu of freshly-caught lobster, fish and crabs; as they marvel over the untouched beauty of the colourful corals under the Indian Ocean. Other items found in the menu include seared veal and an authentic seafood-mushroom soup.
For a greater sense of exclusivity, the restaurant only serves to 12 diners at a time and the reservation is only allowed within two weeks from the actual visit. The restaurant is quite expensive though, each seat for a 6-course lunch costs about $320.
Those who don't wish to spend their fortune on a single meal still have the chance to visit the restaurant's open space during the cocktail hour (starts at 11:00 AM). For $55 each, the view may not be as grand as that from the dining area but it is definitely more affordable than the other option.
Restaurant: Julaymba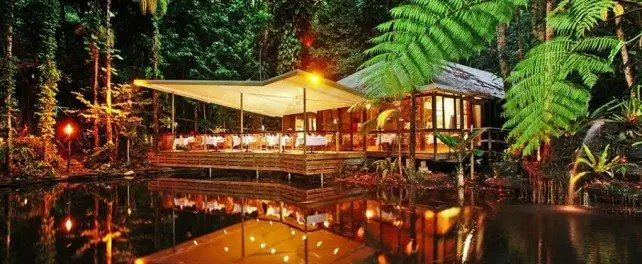 Address: Daintree EcoLodge & Spa, 20 Daintree Rd., Daintree, Australia
Have you ever wondered what it feels like to dine in the midst of the oldest rainforest in the world? Well, you don't have to wonder any more because a restaurant in Queensland, Australia, has just made that possible. Located in the Daintree EcoLodge & Spa, the Julaymba Restaurant offers guests nothing less than the spectacular view of a real jungle, complete with a natural freshwater lagoon.
The restaurant has a 40-seat terrace which is draped with tangled wild vines and flowers. The authentic soundtrack made by about 430 different species of wild animals living in the rainforest serves as the perfect background music to diners.
Of course, Julaymba Restaurant also has a sumptuous menu: native Australian dishes made even more unique by the incorporation of ingredients from the Kuku Yalanji people, with many of Julaymba's employees also from Kuku Yalanji. Those who want to experience Australia to the fullest should try the restaurant's kangaroo steak or smoked crocodile dish.
Restaurant: Rocky Point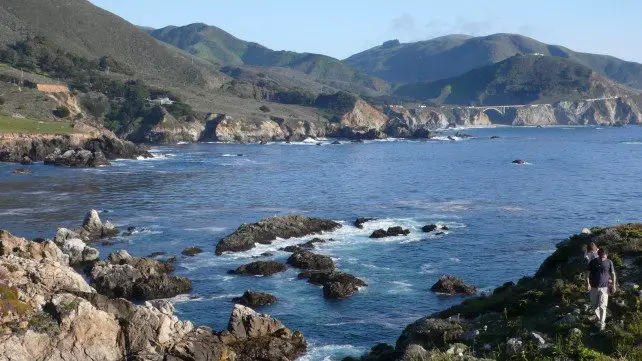 Address: 36700 High-way 1, Carmel, California
Some scenic routes are just too beautiful to simply pass by; some, like the picturesque vistas along the Pacific Coast Highway, just have to be enjoyed longer than a couple of minutes' worth of travel. And, this is what the dining patio of the Rocky Point Restaurant is all about.
Dining in the restaurant gives guests the opportunity to satisfy their cravings for grilled food as they bathe in the magnificent wonder of America's rocky shorelines. Lucky guests might even catch a glimpse of whales, dolphins, otters and sea lions in the wild.
Rocky Point's most loved dishes are the grilled swordfish steak, prime rib and the juicy N.Y. strip. Guests can also try their four-course meal, which actually costs less that most of the meals in their menu. Guests just have to be their early to take advantage of the discounted price. But there's no reason for diners to despair over being there early, as they can actually keep their seats until sunset, just in time to see the best views of the ocean.
Have you been lucky enough to visit any of these Restaurants? Have you been to any that deserve to be on this list? Let us know in the comments below!